Why Utility Bed Cabinet Strength Matters More Than You Think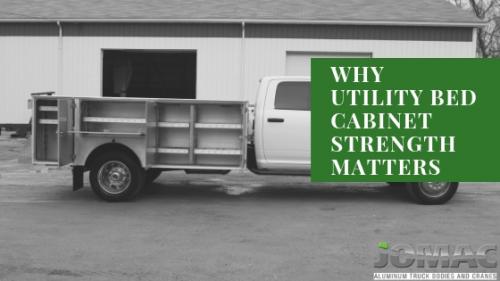 It is no secret that utility bed cabinet strength is an essential component of a truck body.
Regardless of your industry or profession, you need a utility bed that has exceptional cabinet and storage strength. Otherwise, the secondary costs associated with utility body repair could be harmful to your business's bottom line.
Most consumers assume that a utility bed's cabinet and storage components are built to withstand heavy duty usage and extreme environments.
With that said, few investigate the fabrication and construction methods, nor do they know the materials and metals involved in constructing the cabinets.
We urge consumers to take a deeper look into what features, materials, and fabrication methods are used in your utility truck bed.
Here's why…
---
Utility Bed Strength Prevents Downtime
Your business has far more important things to worry about than truck body repair.
Even minor damages to truck body cabinets can be detrimental to daily operations. Significant damages could put an essential component of your business out of commission for days at a time.
Ensuring that you have proactively done everything in your power to avoid costly downtime is a smart move for any business owner.
Looking more specifically at individual utility bed cabinets, one should make certain that they are using/receiving a quality product that has taken preventative measures to guard against damages.
Cabinet materials and construction is the most obvious parameter to analyze further.
Asking the salesperson or service truck body manufacturer the right questions can save you thousands in the long run.
Make sure you know what quality of aluminum or steel the utility bed cabinets are built with. Ask how the fabricate the truck boxes to achieve the utility bed unit. Know what you are buying.
Again, it sounds simple, but it can make all the difference.
---
Getting Your Money's Worth
What is the point of having a utility bed if there are no cabinets? No storage?
The odds of you owning a utility bed and not needing some form of additional storage are quite unlikely.
As an essential component of a utility body, the truck cabinets should be built with longevity and efficiency in mind.
Again, let's hammer down that you need to know how and with what materials the truck body cabinets are designed.
It sounds repetitive and obvious, but it is shocking how many truck operators and business owners do not seek out these key requirements.
It all comes down to getting your money's worth and owning a quality product that you can count on.
In essence, a service truck bed should save you money long-term while increasing your job-site productivity.
Making certain that you have reliable service truck cabinets that can withstand heavy-duty operations will save you money and time in the long run. This is not a sales pitch. These are facts.
A work truck bed is a major investment for any business, large or small, and ensuring that the products you rely on to carry out all of your business functions are of good/great quality is important.
When we look at the implications of damaged or poorly crafted truck cabinets, it is apparent that money can be incrementally lost.
It is important to protect you and your business against future losses by knowing more about the products (utility truck beds) that you are relying upon.
---
Less Worry, More Focus
Now, I am assuming that no one in the history of the world wakes up everyday with the fear of a damaged truck body cabinet.
That would be a strange phobia.
In this instance, worry only comes after there is an issue (again, unless you have a phobia, such as the one listed above.)
Taking measure to prevent potential worry is a strategic way to manage your business efficiently and set the stage for growth.
Utility truck cabinets that stay in good, working condition prevent an unnecessary issue from hindering your daily operations.
Everything from door strength to hinge quality to construction metal plays a factor in the cabinet's overall capability. Knowing that you have supplied your business with the best equipment for the job can alleviate unplanned setbacks.