Upfitting a Mechanics Truck? Take These Factors Into Consideration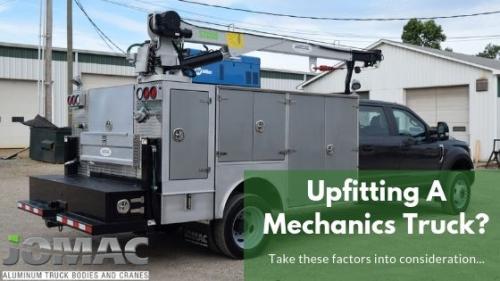 When it comes to upfitting, mechanics trucks need to be custom tailored to the workflow of the individual mechanic.
For this reason, mechanics trucks are often subjected to extensive upfitting to match user specifications and ensure that the work truck is as efficient as possible.
Here are some common technical and functional considerations you should take into account when seeking a mechanics truck to cater to your business and occupational needs…
---
Application
Now, obviously we are discussing mechanics trucks that will likely be used for applications involving mobile automotive or heavy equipment repair.
That is given.
We need to consider specific applications that this mechanics truck will be utilized for. Will this be for standard roadside repair of automobiles or will this truck be used in conjunction with repairing semi-trucks?
While this is a broad question, you need to consider the specifics to ensure that the machine you add to your fleet can best serve its intended application.
A slew of features and upfitting specs will differ between one application to the next.
If 90% of your business caters to one type of repair, your best bet is to optimize your mechanics truck to best serve that area of repair.
It's simple, yet many want to find a Swiss Army knife truck body when they would benefit more from a specialized solution that allows them to best serve the bulk of their business.
This isn't a hard rule, but it is definitely something to consider when searching out used or new mechanics trucks.
---
Materials
Mechanics truck bodies will typically be built from either steel, aluminum, or a combination of the two.
We strongly believe that with the advances in aluminum alloy technology that there is little reason to consider an all-steel mechanics body.
Here's why…
Aluminum weighs roughly 1/3 of what steel does. Long ago, aluminum alloys could not match the strength of steel, but those times have long passed.
There are aluminum fabrication solutions that allow aluminum mechanics truck bodies to rival the strength of steel, alleviate the possibility of rust, and drastically reduce the weight of the mechanics truck.
The weight reduction allows for higher payloads and more hauling capabilities without sacrificing strength or durability.
The preventative nature against rust that aluminum provides allows the truck body's lifecycle to increase.
With that being said, we urge consumers to consider aluminum when acquiring mechanics trucks for their business or venture.
---
Hauling Capacity
As we stated above, aluminum mechanics bodies will drastically increase your hauling capabilities and payloads.
This consideration will reach back to application, where we asked you to consider what the intended use of this mechanics truck will be.
This question will allow you determine a rough figure of how much total weight you will require the vehicle to haul, and subsequently what type of chassis you will need to mount the truck body on.
---
Storage
This is the first major question for any type of service truck body, from mechanics to contractors.
Consider the optimum storage specs you will need prior to shopping the market.
This is yet another consideration the goes back to intended application. No one knows your business better than you, so consider what tools are an absolute must to have on board and find a truck that can accommodate said tools.
If you are looking to invest in a new mechanics service body, consider seeking a manufacturer that can design custom solutions for your specific tool kit (pun intended).
Many manufacturers will work with mechanics to design personally-tailored solutions that will increase workflow efficiency, provide optimized storage, and allow for everything you need to be in one place.
Storage solutions should be at the forefront of any decision making when it comes to truck bodies.
---
Roller vs. Fixed drawers
Drawers and shelving within storage cabinets are the next logical consideration.
While this is often a case of preference, knowing whether your truck and business will benefit from fixed drawers or roller drawers should be a consideration.
Both drawer formats offer a unique set of benefits that will be dependent upon the workflow of the mechanic, the business, and the application.
We find the mechanics often prefer the sleek storage of roller drawers, as it mimics a mobile tool box and allows for careful and accurate storage of several tools all within one area.
This leads to optimized work flow and easy location of a specific size of tool (that is, if the worker has properly organized said drawers.
Fixed drawer solutions offer more flexibility in storage as far as odd or oblong shaped tools that will not fit perfectly within the confines of a roller drawer.
Fixed drawers allow for quick access and more space, giving the worker more flexibility as far as storage applications.
---
Lube skids, Air compressors, and Welders
Housing a lube skids, air compressors or welders on a mechanics truck requires degrees of specifications that need to be tackled early in the process.
While a welder or air compressor can be easily mounted in multiple areas of the mechanics truck and will not require as much specialization, it is still likely that you will need a custom setup.
Some manufacturers of mechanics trucks will offer welders or air compressors located in specific areas of the mechanics truck, which doesn't directly translate to the workflow or application of your specific needs.
Lube skids will require custom fitting and placement to allow for the best utilization of space while still offering robust storage solutions for tools.
When looking to add lube skids, air compressors, or welders to your mechanics truck rig, the best option is customization and locating a custom manufacturer or reputable upfitting company.
---
Cranes
Cranes are essential to certain mechanics truck applications, and require specific parameters for installation that need to be planned.
Figures to keep in mind are the max weight the crane is capable of handling, extension lengths, as well as mounting area and intended application.
Telescoping cranes are typically the best option for mechanics truck bodies, and again, the length and lifting capacity of the crane is going to be entirely dependent upon the crane's intended use.
---
Lighting
Lighting can be crucial for mechanics and businesses servicing late-night calls or working in poorly lit conditions.
Different lighting solutions can be installed to improve these dangerous conditions.
For night-time service, consider LED flood lights on the mechanics body to illuminate the work area. LED hazard lights can also be installed for road-side work.
Furthermore, storage cabinet lighting can be installed to illuminate the storage area, making it easier to locate the correct tool in low-visibility work conditions.
Consider lighting solutions for your business that will increase efficiency while also contributing to a safer work environment.
---
Looking for a mechanics truck manufacturer or upfitter?
JOMAC creates custom mechanics trucks and truck cranes that can be spec'd directly to your requirements. Click here to get a quote for your next project today from one of our experienced service representatives!