Service Truck Crane Placement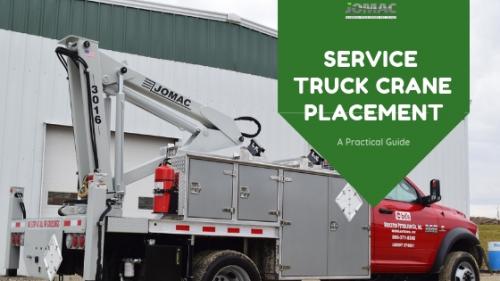 A service truck crane needs to be mounted in an area of the truck body that make the most sense for your work conditions.
A strategic mobile crane placement can make an enormous difference in the efficiency and function of your work truck unit.
Whether you are considering a new, used, or refurbished truck mounted crane, the mounting location on the utility body should be at the forefront of your mind when shopping.
With most truck crane manufacturers, you will have up to three options of where you are able to mount your mobile crane: street-side, curb-side, or behind-the-cab.
Each mounting option provides operators with a unique advantage, depending on their workflow and job-site environment.
Let's explore the benefits of each…
---
Street-Side Crane Mounting
Street-side service truck cranes offer a host of benefits unique to the mounting location.
While street-side crane mounting is less common than curb-side, it allows the operator a longer horizontal and vertical reach to the left of the truck.
When a service truck crane is mounted street-side, it can be useful in highway and street construction settings, dependent upon where the construction or maintenance is taking place.
In applications such as residential or commercial home construction, a street-side mobile crane allows for a greater vantage point and reach for transporting materials and cargo to elevated areas.
LP Gas service truck users and propane industry professionals sometimes prefer street-side crane mounting, due to the nature of certain propane delivery and pick-up locations.
Mobile crane mounting is largely (if not entirely) dependent upon intended use. While street-side mounting is less popular than curb-side or behind-cab, it still offers unique advantages to certain industries and jobsite conditions.
---
Curb-Side Crane Mounting
Curb-side crane mounting is a far more popular location option, and with good reason.
By mounting a service truck crane on the passenger side of your work truck, you give yourself optimal reach away from the road. This aspect makes curb-side placement a fantastic option for mechanics trucks, as well as DOT applications.
To mirror street-side placement, curb-side mounting allows for optimal reach, both vertically and horizontally, on the right side of the service truck body.
Mechanics assisting highway breakdowns almost always prefer this mounting option as it provides added space away from busy roads and highways to operate the crane.
As mentioned above, this is a great option for DOT workers repairing pedestrian infrastructure (you know, like sidewalks), as well as median and other types of roadside work.
Other municipality workers also prefer curb-side crane mounting for instances of pipe and drainage repair, excavation sites, and more.
Commercial and residential builders working in urban/suburban areas can find benefit in a passenger side mobile crane placement as well. Often working in tighter or confined spaces with street traffic playing a factor, the passenger side mount provides more surface area for operation, control, and safety.
Both telescoping and knuckle boom cranes are able to be placed in this mount location.
---
Behind-The-Cab Crane Placement
The behind-the-cab service truck crane placement is mostly reserved for knuckle boom cranes, and typically will prefer A-frame outriggers (as opposed to the H-frame outriggers typically used with curb-side or street-side placement).
This unique service truck crane arrangement provides operators with equal horizontal and vertical reach from both sides of the truck.
A mobile truck crane mounted behind the cab is perfect for fast-loading operations or multi-pickup service runs where speed and efficiency are valued at a premium.
With the multi-function uses that knuckle boom cranes offer, cargo can be loaded in one swift movement, regardless of the side of the truck it is placed on.
The mobile truck crane can then retract back into its multi-jointed resting position and move on to the next location.
A favorite of propane service truck body owners, due to the multiple picks and drops that are required throughout a day.
Tire service truck operators also find favorable function with this mounting option (again, due to the multiple pick and drop aspect of their daily operations).
Flatbed truck body users often find a behind-the-cab hydraulic crane mount to be useful, as it clears the entire truck body bed for cargo placement without any impediment on the tail.
With the cranes ability to be tucked away from the flatbed, it provides a practical solution for an operator to maximize space while increasing capability with the addition of a crane.
JOMAC is an industry leader in service truck bodies, as well as knuckle boom and telescoping mobile cranes.
If you are interested in custom truck body crane mounting options, please inquire here for more details and a personalized quote.