Mechanic Truck With Crane: Service Truck Spotlight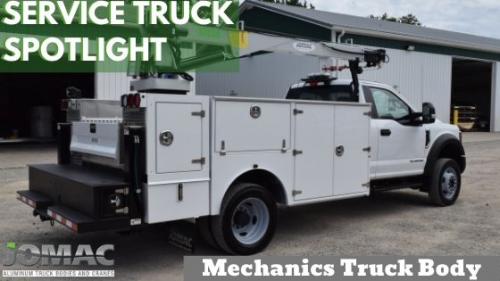 We build the lightest, yet most durable mechanics truck bodies in the business. Bold statement? Possibly…
We double dog dare you to find another mechanics truck manufacturer that offers a lifetime structural warranty, while also guaranteeing the body to remain rust free.
This 1101 series mechanics truck body is no exception. This truck comes equipped with a 5,000 lbs. telescoping hydraulic crane, custom built-in workbench, and enough storage to organize, optimize, and streamline each and every job-site function.
---
Basic Specs
The 1101 series aluminum mechanics body is constructed with a steel subframe providing a powerful base for the truck body and crane.
The STC-50 crane provides a capacity rating of 20,000 lbs and 5,000 lbs max capacity, supplying ample lifting power.
The truck body is designed for an 84" cab-to-axel DRW chassis with a 34" to 38" frame height. The cabinets on the body are made with 1/8" thickness and 13-gauge, double panel doors. The cabinet thickness and damage resistant properties ensure that the mechanics truck can endure harsh conditions and use while maintaining structural integrity and function.
---
Cabinet Space
This mechanics body features 3 cabinets on the street side as well as the curb side, creating extensive storage and organizational opportunities.
As previously mentioned , the cabinets feature 13-gauge double paneled doors, along with whale tail latches and 3-point latches with wear pads at each latch point.
The street side cabinets measure as follows:
56" Wide x 48" High x 22" Deep
44" Wide x 24" High x 22" Deep
28" Wide x 24" High x 22" Deep
The curb side cabinet measurements are:
56" Wide x 48" High x 22" Deep
44" Wide x 24" High x 22" Deep
28" Wide x 30" High x 22" Deep --- Crane Riser Cabinet
Each cabinet for our mechanics truck bodies are individually fabricated, then welded together to create a full box design, ensuring quality and craftsmanship on every cabinet.
---
Workbench Design
This mechanics truck contains a built-in work bench feature, allotting for ease of mobile work and enhancing job site efficiency.
The workbench is constructed of steel box tube with a ¼" steel plate top, amounting to a work surface that is 20" deep by 96" wide. On the work surface, we outfitted a 5/8" thick, vise mounting plate.
Within the work bench area, we housed a through-body cabinet for longer, difficult to store tool, ensuring that every area on the service body is optimized for both storage space and function. The through-body storage area measures 12" high by 15" wide by 91" long.
---
For all purpose lifting and hoisting, this mechanics truck has a 5,000 lbs max capacity, hydraulic telescoping crane mounted on the curbside rear corner.
The JOMAC STC-50 crane allows for hydraulic extension to 16 feet and manual extension up to 20 feet.
This iteration of the STC-50 has a 30-foot wired remote control pendant for safe operation.
Additionally, the crane allows for true, continuous 360 degree rotation and houses a hydraulic pressure monitoring system and counter balance valves for seamless operation.
For operational stability, we have outriggers with hydraulic down functions on both sides for easy set up.
---
Need Assistance?
 At JOMAC, we help businesses create work truck solutions that enhance their workflow, save money, and extend value through the duration of the truck body lifecycle.
Want to customize a utility truck for your business?
Click here to contact a JOMAC representative today and receive a free quote!