Extreme Duty Utility Truck Body- Service Truck Spotlight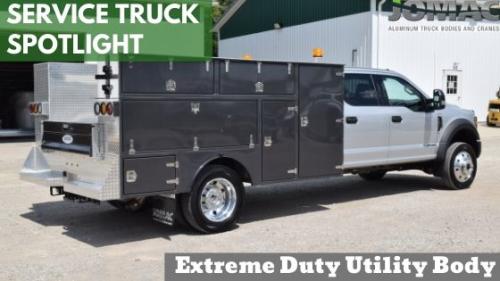 Service truck bodies need to be equipped for the most extreme conditions and scenarios. The truck body we are exploring today is an example of that.
This extreme duty service truck body is constructed with military and aerospace aluminum, and it is equipped with custom-sized cabinets, roller drawer units, and a false floor for additional storage capacity.
Here's more…
---
Basic Specs
Here we have an aluminum utility truck body designed specifically for an 84" cab-to-axle DRW chassis. The dimensions of the service body unit are 96" wide by 42" high by 132" long. The truck bed on this beast has 55 3/8" of space from cabinet to cabinet, allowing for sufficient hauling space and storage.
This 11 foot service body houses 6 cabinets per side, providing an insane amount of storage for the space allotted.
---
Truck Body Cabinets Galore!
With twelve total cabinets on this service truck body, storage should never be an issue. We begin with two top-level cabinets on each side with lift-up doors, followed by four cabinets on each side of truck body.
STREET SIDE CABINET Dimensions:
34" W X 60" H X 20" D
24" W X 42" H X 20" D
46" W X 24" H X 20" D
28" W X 42" H X 20" D
CURB SIDE CABINET Dimensions:
34" W X 60" H X 20" D
24" W X 42" H X 20" D
74" W X 24" H X 20" D
28" W X 18" H X 20" D
Each cabinet features stainless steel locking T-handles, nylon wear pads at each latch point, and automotive type rubber ball door seals.
The cabinets are provided with 1/8" diamond plated covering on the top and back of the cabinets, providing additional thickness and protection against heavy-duty use.
---
Roller Drawers and False Floors
In addition to the copious amounts of storage space provided by twelve cabinets, this utility truck body goes a step further with the implementation of a false floor.
The false floor of the truck bed provides an additional storage measure, with 6" of height and three dividers running the length of the truck bed.
For prime organization and easy to access functionality, we installed a series of different ball bearing roller drawer units within the cabinets.
Each roller drawer provides 500 lbs. of storage capability with lock close and lock open features and a full length lift up latch.
Here we installed one  7" high roller drawer, two 5" high, and five 3" high units.
---
Light It Up
With all of that storage, we needed a complex lighting system to ensure visibility in the even the dimmest conditions.
The cabinets were outfitted with 1 ½ inch high by 1 ¼ inch wide white LED lighting with deflector shields to achieve this.
---
Need More Storage?
For over 30 years, JOMAC has specialized in creating turn-key, custom equipped service truck bodies for businesses and contractors to optimize their output and perform their work at the highest level.
If you are interested in more storage, better gas mileage, and the longest lasting truck body on the market (we offer a lifetime structural warranty!) please click here to contact a service representative today for a quote!