Enclosed Utility Truck Body- Service Truck Spotlight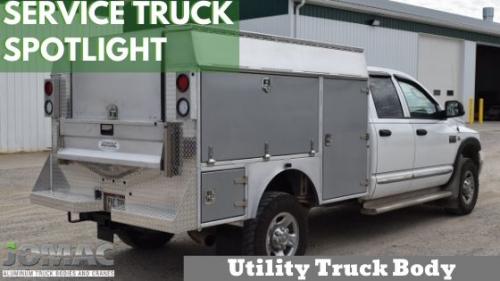 For this installation (pun intended) of service truck spotlight, we wanted to present a modified version of our 4008 series utility truck body.
This service truck body features a telescoping roof, sleek roller drawer installations in the cabinets (along with LED lights) and a removable tailgate. Rounding out this brilliantly equipped utility body are 6 storage cabinets, constructed from military-grade aluminum and flexing 1/8 inch of shell thickness and ¼ inch between cabinets.
Let's dive into the details…
A Custom Fit
We built this utility body to specially fit an older truck chassis, modifying features and specifications to accommodate the service use.
The utility body is constructed out of 5000 and 6000 series, aerospace aluminum and reinforced with 1/8 inch of diamond plate cover on the top and back of cabinets for an additional ¼ inch of strength and durability.
Because we offer utility body builds-to-order, we were able to modify our truck body design to upfit a 2009 Dodge 3500, creating a custom-tailored service truck body solution.
Convertible Service Truck Body
While not as flashy as a convertible Corvette, this truck body provides convertible features that are more functional.
We built a sliding, telescoping roof to provide "shelter from the storm" for tools and cargo. This 3-piece roof is constructed with 1/8 inch thick aluminum and provides an additional locking feature when the removeable tailgate is in the closed position.
Offering flexible and practical coverage to the truck bed floor, the storage possibilities increase drastically.
Glowing Cabinets?!
To ensure adequate lighting in the darkest conditions, we outfitted each storage cabinet with white LED lights 1 ½ inches high and 1 ¼ inches wide. The LED lighting system ensures that visibility and safety are paramount when working in adverse conditions.
Roller Drawers for Easy Access
This truck body is upfitted with 7 total roller drawer units placed in strategic cabinet areas for accessibility, organization and ease of use.
There are four 3" high roller drawer units and an additional three 5" high roller drawer units housed within the service body.
The roller drawer units themselves are built with an all-aluminum design, testing weights up to 500 lbs and running on ball-bearing rollers. The drawers feature a snap to close function, ensuring that when they are rolled into the locked position, they are there to stay.
Locked open functionality allows for the drawers to be exposed when in use, alleviating the risk of the drawers sliding back and forth during job-site operation.
Each roller drawer comes standard with the JOMAC lifetime warranty to the original owner.
Utility Body Storage
Rounding out the feature list, we have 6 cabinets for ample storage and functionality.
Cabinet specifications are:
CURB SIDE CABINETS:
34" W X 42" H X 14" D
62" W X 24" H X 14" D Horizontal cabinet
22" W X 18" H X 14" D Rear under deck cabinet
STREET SIDE CABINETS:
34" W X 42" H X 14" D
40" W X 24" H X 14" D
22" W X 42" H X 14" D
The horizontal curb side cabinet features a drop down door to double as a work table, while the street side cabinet features dual swing doors.
Each cabinet door is double walled for protection against damage in harsh work environments and stainless steel hardware for durability throughout years of use.
Custom Upfits for Older Chassis
JOMAC offers the unique flexibility to modify service truck bodies to spec. It is this unique differentiator that allows us to create custom truck body solutions for truck chassis that are brand new to those that have seen a few miles.
If you have a truck chassis that has seen some action, we can craft a custom build utility body to put it to good use.
Interested in building a truck body for an older truck chassis?
Click here to contact a JOMAC service representative today to receive a free quote and consultation!