Custom Mechanics Truck Body: Service Truck Spotlight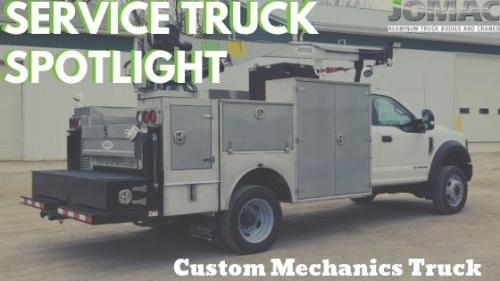 For this edition of service truck spotlight, we would like to present a custom iteration of a 7002A series mechanics truck body.
We mounted this mechanics truck body on a Ford F-550 XLT DRW, incorporating a hydraulic telescoping crane, VMAC multifunction unit, and custom storage options.
This truck is loaded with custom features and functions, allowing for seamless workflow and work-site optimization.
Let's take a deeper look:
13' Military-Grade Aluminum Body
This mechanics truck is mounted with a 13' long by 9' wide military-grade aluminum truck body. This truck body features a step bumper adding an additional 10 inches to the tail of the truck.
We utilize 5000 and 6000 series aluminum in constructing our 7002A series mechanics truck bodies, ensuring that we achieve the lightest possible curb weight, subsequently increasing payloads while maintaining superior strength.
By using aluminum, we alleviate the risk of rust and deterioration, and in the process, create a truck body that is certain to maintain structural integrity.
---
Proprietary Steel Subframe
We mount our mechanics truck bodies on a proprietary steel subframe, allowing unrivaled support and endurance for an aluminum truck body.
This steel subframe features rectangular tube cross members on 8" steel centers, fully welded and gusseted. The result is an infallible foundation for the heavy-duty applications of a mechanic truck.
---
Storage and Cabinets
This mechanics truck body houses three storage cabinets on each side of the truck body, along with a multi-functional work bench.
Each of cabinets was outfitted with stainless steel hardware and whale tail door latches. Three point latches with wear pads are installed at each latch point.
The cabinet dimensions are as follows:
STREET SIDE CABINETS:
56" W X 60" H X 22" D with split doors
44" W X 24" H X 22" D
28" W X 48" H X 22" D
CURB SIDE CABINETS:
 56" W X 60" H X 22" D with split doors
44" W X 24" H X 22" D
27" W X 24" H X 22" D (Crane riser cabinet)
These cabinets feature a full-box design, providing ¼" thickness in between cabinets, on the top of the cabinets, and on the back of the cabinets, significantly enhancing the strength of the truck body.
The cabinets were outfitted with heavy-duty roller drawer units with locking latch, providing fast and easy access to tools and unparalleled organization.
The cabinets house an LED lighting system, providing full illumination of the interior cabinets.
---
VMAC Diesel Drive Multifunction
On this truck body, we performed a custom installation of a VMAC diesel drive multifunction power unit. This power unit has the combination option of welder, generator, charger/booster, PTO port, and air compressor in one singular unit.
The self-contained unit works to seamlessly switch between multiple applications, allowing an all-in-one solution for numerous mechanic-specific work functions.
---
STC-90 Telescoping Hydraulic Truck Crane
For the heavy lifting, we mounted an STC-90 telescoping hydraulic crane on the rear corner of this mechanics body.
The STC-90 features a 16' extension with a manual 18' extension and a max weight capacity of 8,300 lbs.
Included in the custom package is a 30' wireless remote control and a hydraulic pressure monitoring system.
The crane is capable of true 360 degree rotation and comes with JOMAC's industry leading 10 year warranty.
Interested in JOMAC creating a custom mechanics truck for your business? Click here to contact a service representative today for a quote!