Custom Mechanics Truck Body- Service Truck Spotlight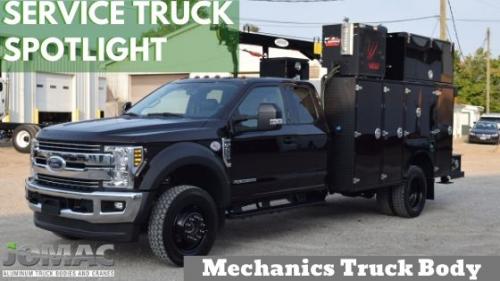 For this mechanics truck, we customized the service body from top to bottom to utilize all available real estate and create a truck body that truly functions as a mobile mechanics shop.
This truck body houses eight storage cabinets(custom configured for workflow organization), a hydraulic telescoping crane, a VMAC multifunction power unit, welder, spotlights, cabinet lights, and more.
Standard with JOMAC mechanics truck bodies, we mount the truck body on top of a steel substructure. The substructure integrates the crane, outriggers, and work bench relieving the truck body from forces generated by the crane. This results in a fully reinforced unit, built to last with minimal maintenance.
The custom mechanics truck body sports overall body dimensions of 96" wide by 60" high and 132" long and is designed for an 84" CA DRW chassis with a 34"-38" frame height.
The mechanics body allows for 51 ½ inches between the cabinets.
The truck body is reinforced with 6061-T6 grade aluminum subframe, providing lightweight yet powerful stability for the crane, cargo, and equipment on board.
All of the storage cabinets are outfitted with 13-gauge, double paneled doors, automotive rubber ball door seals, whales tail latches, and stainless steel hardware.
The cabinet shell offers 1/8 inch of protective thickness, while the mechanics truck bed floor provides 3/16 inch diamond plate for a durable, non-slip walking surface.
Mechanics Truck Cabinet Space
This mechanics truck body houses 9 total storage cabinets as a baseline for storage.
Cabinet dimensions are:
STREET SIDE CABINETS:
30" W X 60" H X 22" D
26" W X 60" H X 22" D
44" W X 36" H X 22" D with split doors
28" W X 60" H X 22" D
CURB SIDE CABINETS:
30" W X 24" H X 22" D below deck cabinet
26" W X 60" H X 22" D
44" W X 36" H X 22" D with split doors
28" W X 30" H X 22" D (Crane riser cabinet)
*There is an additional street-side cabinet used for VMAX multi-function service*
Both the street and curb side cabinets possess custom configurations designed to facilitate a streamlined workflow and optimized storage for the end-user's job-site applications.
The street-side custom cabinet configurations adhere to the following specifications:
*CABINET 1- 30" SECTION
ROLLER DRAWER UNIT
4-5" DRAWERS
4-3" DRAWERS< ONE ADJUSTABLE SHELF
*CABINET 1- 26" SECTION
ROLLER DRAWER UNIT
1-7" DRAWER
3-5" DRAWERS
4-3" DRAWERS ONE ADJUSTABLE SHELF
*CABINET 2 – OVERWHEEL
 ROLLER DRAWER UNIT
3- 3" DRAWERS
One Adjustable Shelf
*CABINET 3 - REAR CABINET
5 ADJUSTABLE SHELVES
*ON TOP OF FRONT STREETSIDE IS VMAC Multi-Function
ONE CABINET TO HOUSE FUEL, AIR REEL, WATER SEPARATOR, AND FUEL FILTER
Dimensions are 72"L X 24"D X 29"H WITH ONE LIFT UP DOOR
For the curb-side cabinet configurations, we installed the following:
*CABINET 1- BELOW DECK CABINET UNDERNEATH WELDER
ONE SHELF
*CABINET 2 - 26" VERTICAL
SPLIT WITH WELDED IN PLACE DIVIDER VERTICALLY
BOTH OPENINGS HAVE 10.4" OF CLEARANCE
ONE WELDED IN PLACE DIVIDER HORIZONTALLY WITH 18.2" OF CLEARANCE FROM THE TOP CABINET LIP
TOP OF CABINET WILL HOUSES ACET REEL
FRONT SECTION HASTORCH BRACKETS WHILE REAR SECTION HAS 4 ADJUSTABLE SHELVES
*CABINET 3 - OVERWHEEL CABINET
6 BOLT BINS IN BOTTOM OF CABINET
1 WELDED IN PLACE DIVIDER VERTICALLY ON TOP OF THAT
ANGLE WELDED IN PLACE TO HOUSE CUSTOMER PROVIDED SORTIMO TRAYS
Roller Drawer Unit Between Frame Rails
At the rear of the truck body, we installed an extra-long roller drawer unit situated between the truck chassis rail frames.
To accomplish this, we installed a false floor divided into two cargo sections. The first section of the false floor will be the resting spot for the roller drawer unit.
This roller drawer unit measures 25" wide by 62" long by 3" deep and is housed behind a polished tread plate door with two lever latches. Additionally, the drawer will lock in position and accommodates drawer dividers.
The second false floor cargo area is open for additional storage capabilities.
Multi-Function Unit
Perched atop this mechanics truck body is a VMAC multi-function compressor, PTO port and hydraulic power system.
This unit brings a portable power options to numerous job-site functions and presents an opportunity to complete multiple tasks at the dispatch of a single mechanics truck.
STC-60 Hydraulic Telescoping Crane
For hoisting power, this mechanics truck body includes a JOMAC STC-60 telescoping crane. The crane provides hydraulic extension to 16 ft with a manual extension option up to 20 ft.
In addition, this crane has a capacity rating of 32,000 lbs and a max capacity of 6,000 lbs providing ample lifting power in a pinch.
The crane also includes a 30 ft wired remote pendant, hydraulic pressure monitoring systems, counter balance valves, and true continuous 360 degree rotation capabilities.
Our cranes, like our truck bodies, are engineered, manufactured, and assembled in house, providing a one-stop shop for any truck body or crane service.
Custom Build Mechanics Trucks?
JOMAC can build custom mechanics truck bodies and mechanics truck body features to your specifications.
Interested in building a tailor-fit mechanics truck solution for your business?
Click here to contact a service representative today to bring your mechanics truck idea to life!