Custom Flatbed Truck - Service Truck Spotlight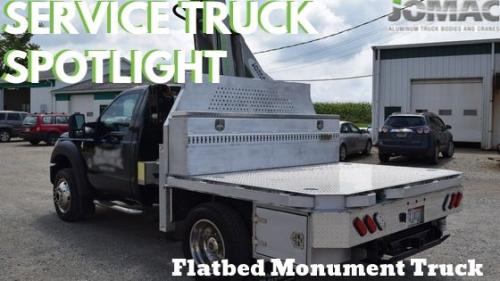 Our custom truck body builds are not exclusive to utility bodies. JOMAC customizes flatbeds for industry specific uses and guarantees them up with a lifetime structural warranty.
This custom flatbed truck body was built to optimize function and efficiency for a monument and memorial service. Intact with industry specific features and storage, we modeled this flatbed truck body to streamline end-user work flow.
Let's take a metaphorical "look under the hood" to dive deeper into the customizations and specs.
---
Military-Grade Aluminum Construction
This flatbed truck body is constructed from 6061-T6 and 3003 series aluminums, allowing it to weigh over 50% less than a comparable steel service body, while providing superior strength and damage resistance.
A 3/16" treadplate floor on the platform offers yet another layer of protection against damage and subsequent wear issues associated with transporting dense, heavy stone.
Underneath the platform, we have 3"channel cross members on 8" centers, with gussets on every cross member.
The result is a flatbed truck body that can take a beating under extreme circumstances, while providing higher payloads, diminished fuel expenditure, and provide light-weight benefits with heavy-duty performance.
---
One-of-a-Kind Storage Features.
This iteration of a custom flatbed truck body provides both a street-side storage cabinet, as well as a storage cabinet against the front bulkhead.
We took the functional requirements for a specific industry and designed a storage solution to ensure that their operational functions are optimized without compromise.
The street side cabinet provides a storage area 24" wide by 18" high by 20" deep. For additional storage, organization, and functional requirements, we installed a compartment on the platform at the bulkhead.
This storage area features e-track and tie downs on the front panel, a flip open lid, and a cargo area measuring 96" wide by 24" high with a foot of depth.
While unconventional, the additional areas for cargo allow the operators to function at high capacity and store tools and apparatuses to conduct work with high levels of efficiency.
---
Strap and Secure
For strapping and securing cargo, this truck body is outfitted with recessed, zinc-plated, D-rings that rotate 360 degrees and possesses a pull capacity of 5,000 lbs. each.
The additional e-track on the bulkhead storage container allows for an additional strap and secure method.
Knuckle Boom Crane
Lifting and hauling stone is no easy feat. This truck is equipped with a JOMAC HFC-4527 knuckle boom crane for this very purpose.
The knuckle boom crane has a max load capacity of 7,500 lbs, providing adequate lifting power, 360 degree rotational loading and unloading, and a worm gearbox (allowing for operation at lower pressure and significantly increasing the lifetime of the crane).
---
Flatbed Truck Bodies for Any Application
JOMAC can build custom flatbed truck body and platform truck body solutions for any industry.
Have a specialized business or industry that requires a specialized utility body? We can help!
Click here to contact a JOMAC representative to receive a quote for a custom-designed flatbed truck body today!