Canopy Truck Body - Service Truck Spotlight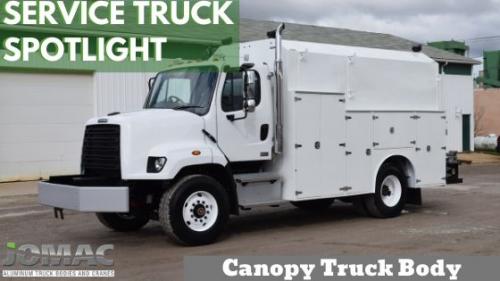 This installation of service truck spotlight will highlight a monster of a canopy body, built with the foundation of our 4005 series utility truck body.
This build was designed for heavy-duty applications and comes with dual-swinging door entrance to the canopy. A total of 8 storage cabinets surround the truck, along with a 5000 watt power inverter, and a military grade aluminum shell that is backed by JOMAC's lifetime structural warranty.
Canopy Truck Body Specs
This canopy truck body is designed for a 108" CA dual-rear wheel chassis and features truck body dimensions of 102" wide X 60" high X 156" long.
The walk-in rear of the canopy allows 54" between the cabinet spaces and a height of 76" for ample storage and operator access.
The interior of the canopy houses both a Boss 8060 UBI air compressor and a Wagan 5000 power inverter (more on that later).
The canopy truck is constructed from military grade 5000 and 6000 series aluminum, allowing for higher payloads, reduced fuel expenditure, and a rust-free for life guarantee from JOMAC.
Cabinets Built To Last
The storage cabinets on this truck body are manufactured one at a time and welded together to create the JOMAC "full-box design." This produces enormous emphasis on quality and ensures that every truck body cabinet is built to last.
The 13-gauge, double-paneled cabinet doors provide industry-leading protection against incidental damages.
The 13-gauge aluminum fixed-shelving units with divider slots offer stationary organizational capabilities, that are light-weight, but impressively strong.
For more organization, we installed aluminum, ball-bearing roller drawer units with 500 lbs. ratings. These roller drawer offerings allow for easy tool access, optimal storage, a convenient, portable tool box ready-to-go at any job site.
This canopy truck body houses 4 roller drawers at 16" wide by 14" deep by 5" high, and an additional 4 roller drawers at 16" wide by 14" deep by 7" high. Each roller drawer unit is equipped with a locking latch function, providing safe and simple transport without shifting.
Power from Within!
As we previously mentioned, this monster of a truck body houses a Wagan 5000 watt power inverter and a Boss 8060 Air Compressor.
The power inverter supplies 5000 watts of continuous power that can be used to run power tools, wet/dry vacuums, computers and other electronic equipment.
The power inverter offers high voltage, low voltage, and overload protection, as well as low battery alarm and low battery shutdown features. Housing powerful, high-speed internal cooling fans, this unit has maximum efficiency at approximately 90%  output.
Along with electrical power capabilities, the canopy truck body has a built-in air compressor/generator, along with an air hose reel for multiple job site applications.
Business in the Back
A custom work bench bumper is situated at the rear of the truck body for a custom and convenient stationary work area. The work bench dimensions are 20" deep by 102" wide and constructed from box tube with a ¼ inch steel plate top.
Underneath the work bench area is a through-body cabinet for additional storage measuring 12" high by 15" wide by 91" long.
The work bench has a 5/8 inch thick hitch mounting plate, a mounting plate for a vise and a 7-way trailer connector.
Paint!
We finished this canopy truck body off with a custom paint job based on end-user specifications.
The paint job includes a prep, etch, prime, seam seal, and painting of the outside perimeter of the truck body in its entirety.
The finishing touches to an incredibly versatile canopy truck body present the professional polish to differentiate from the pack.
If you are looking to add a custom-built, feature-loaded canopy truck body to your fleet, please click here to have one of our service representatives draft a tailor-made solution to compliment your business and industry applications.