Canopy Truck Body- Service Truck Spotlight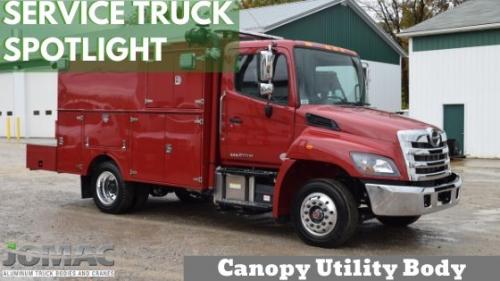 Don't send a small service truck to do a big boy's work. That, in a nutshell, is the best way to describe this 4004 series, extreme duty, canopy service truck body.
This truck is enhanced with several premium features, including a lube skid, compressor, electric crane, several ball-bearing roller drawer organizational systems, and custom lighting apparatuses. With all that function under one canopy, let's unpack what makes this truck something to behold.
---

Overall Specs
Constructed from military-grade, 5000 and 6000 series aluminum, this truck body was designed to fit an 84" cab-to-axle DRW chassis. The body dimensions are 96" wide by 42" high by 132" long with a 132" full body, 3 section, telescoping canopy roof.
The truck body is created as a full box design, allowing for 1/8" of shell thickness and ¼" inch of material thickness between the cabinets.
As we move on to the cabinets, we find 3 street-side and 3 curb-side cabinets with the following dimensions:
STREET SIDE CABINETS:
58" W X 42" H X 20" D with split doors
46" W X 24" H X 20" D
28" W X 42" H X 20" D
CURB SIDE CABINETS:
58" W X 42" H X 20" D with split doors
46" W X 24" H X 20" D
28" W X 42" H X 20" D
A fourth cabinet is added on both the street-side above the 3 cabinet layout for additional storage.
---
Lube Skid
Inside this custom canopy truck body, we find an incredibly versatile lube skid unit.
The unit offers:
1 – 60 gallon Waste Oil system with Alemite 30' x 3/4" reel, 4-way valve, 1" pump, regulator, Y strainer kit
3 – 40 gallon New Oil system with 50' x ½" Alemite reel, Mechanical preset meter, 5:1 pump, regulator
1 – 40 gallon Fuel system with Alemite ¾" x 30 fuel reel, 12 volt GPI fuel pump, inline digital meter, inline filter
1 – 35lb Grease system with 50' reel, 50:1 pump, tie down kit, regulator, control, swivel
1 – Central air manifold kit to connect to air
The reels are accessible from the upper cabinet doors on the curb-side of the truck body, providing easy access and quick use within seconds.
To learn more about lube skids, click here to contact a JOMAC service representative.
---
Service Truck Compressor/Generator
The canopy service body houses an underdeck Boss 8060 UBI compressor generator offering 120/220 dual voltage.
The generator/compressor features two 125 volt duplex receptacles along with one 125 volt single receptacle, along with a voltmeter and circuit panel box.
---
Electric Crane
On the rear of the truck body we find an Econoton, 12 volt, electric operated crane.
This crane presents 2000 lbs. capacity extended to 3'3" and a manual extension option allowing for the boom to extend to 7'1".
Complete with a 10' wired pendent and power rotation, the crane provides both ease of use and immense function conveniently mounted on the rear bumper of this truck body.
---
Custom Lighting
The truck body features  two 900 series light mounted on both the street-side and the curb-side.
In addition to the side lights, an amber directional light bar is mounted on the top of the cab, providing roadside and jobsite safety to operators in low visibility situations.
---
Ball-Bearing Roller Drawer Units
For organizational mastery, we equipped this service body with ball-bearing, aluminum roller drawer units.
The service truck has two 7" high roller drawer units, two 5" high roller drawer units, and ten 3" high roller drawer units.
Each roller drawer allows for 500 lbs. of storage, full length lift latch, and lock open/lock closed features.
Each unit is backed by JOMAC's limited lifetime warranty to the original owner.
---
Custom Truck Bodies
If you and your business are seeking a service truck body solution that is custom tailored to your operation and workflow, look no further.
JOMAC has specialized in creating custom service truck solutions for the past 30 years.
Have an idea in mind for your perfect work truck? We can build it.
Click here to contact a JOMAC truck body representative to receive a free quote and consultation.