Box Truck Utility Body: Service Truck Spotlight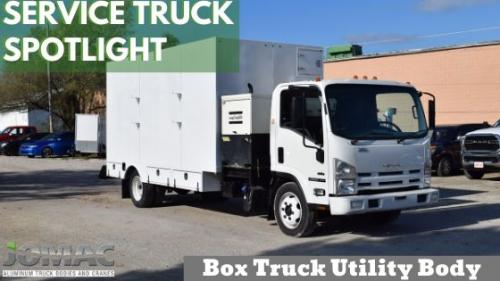 Custom truck bodies come in all shapes and sizes, and this one here is a testament to that.
When businesses have complex requirements for a service truck body, we strive to deliver every nuanced detail to help drive their business forward.
This is a utility box truck service body, designed specially for a 133" CA dual wheel drive chassis. Let's look at the details.
---
The Body
Constructed with a full-box design, the box truck utility body is constructed entirely from 5000 and 6000 series military grad aluminum. The full-box design with 1/8" thick shell provides 1/4" material thickness between the cabinets.
With 6x3 box tube long sills and 2X3 rectangular tube cross members with gussets, the service body is built to withstand even the most tiresome work conditions.
The Aluminum canopy flat roof has an 84" inside height accommodating any entrant inside the service body that is under 7 ft tall.
---
Cabinets Above and Below
This truck body features an arsenal of cabinets on the curb side, both above and below the deck. On the street side, cabinets are limited to below the deck to accommodate the custom ladder rack mount.
Cabinet specifications can be seen below:
STREET SIDE UNDER DECK CABINETS:
45" W X 14" H X 20" D
45" W X 14" H X 20" D
36" W X 14" H X 20" D
CURB SIDE ABOVE DECK CABINETS:
36" W X 54" H DOOR TO INSIDE CARGO AREA (with mounting plate for customer installed tool jack)
34" W X 36" H X 24" D with split doors
34" W X 36" H X 24" D with split doors
48" W X 36" H X 24" D with split doors (for customer installed welder)
36" W X 36" H X 24" D
CURB SIDE UNDER DECK CABINETS:
45" W X 14" H X 20" D
45" W X 14" H X 20" D
36" W X 14" H X 20" D
The military-grade aluminum cabinets have 11- gauge, double-paneled doors, automotive rubber ball door seals, and T-latch handles with nylon wear pads.
---
Rear-View
On the rear of this box truck utility body, you find double rear doors with 180 degree hinges.
A rear conduit door can be seen above. A Matthews style steel serrated grating bumper with two steps leads up to the dual door entrance.
Inside the doors, we find interior shelving units along with a slip resistant, 3/16 inch tread plate flooring.
---
Looking for a custom box truck service body?
If you are in need of custom features for an industry specific application of a service truck body, we would love to help.
It is our passion to assist others in streamlining their workflow, optimizing their work rig, and creating a utility body that will last for decades.
If you are interested letting us assist you in the creation of your "perfect" truck body, please click here to contact a JOMAC truck body expert for a free quote and consultation!