Service Truck Body Blog: Best of 2018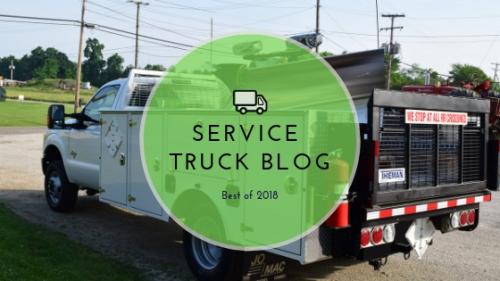 Well, with the new year upon us, we wanted to give you a year in review from the first year of our service truck and mobile hydraulic crane themed blog.
We laughed and cried and learned all sorts of useful tidbits about utility truck bodies and truck mounted cranes.
Actually, we didn't cry. That would have been weird.
So, without further ado, here are our 10 most popular blog posts of 2018…
This blog post covers the main benefits that allow knuckle boom cranes to reign supreme as a multi-purpose, truck-mounted crane solution for small businesses and large fleets alike.
Covering several (7 to be exact) differentiating features that knuckle boom cranes provide a functional advantage in different lines of work.
Here we examine different traditional aspects of utility truck bodies and utility beds that do not provide efficiency and consequently slow down the workflow of your business.
Set up in the manner of a ten-point check list, this post is more of a diagnostic analysis of the ways a truck body can prevent you and your business from operating at optimum capacity.
A recent post of ours offers an illustrated glossary of terms commonly used in the utility body industry that may be foreign to some (and perfectly normal to others).
This post provides several visual representations of what certain utility truck body and mobile hydraulic crane parts and functions are.
This is a rather comprehensive list of the benefits that accompany aluminum service truck bodies that are found lacking in truck bodies constructed from steel.
The list includes explanations following each reason consumers should consider aluminum truck bodies over steel, along with visual infographics illustrating the points.
Here, we examine the importance of quality in business and why it seems to have decreased in many industries in recent years. While the tone of the article has a positive outlook for the future, we discuss how companies can do their part in upholding quality and craft standards.
Looking to sell a used service truck body?
This guide provides several tips on how to maximize your return on investment and make sure that you are getting the best possible value in return for parting with your beloved utility truck.
Complete with "how-tos" and visuals, this is a perfect jumping-off point for selling a truck body and future planning if you intend to upgrade/replace your old utility bed.
This article illustrates the enormous fuel savings that occur when switching from steel to aluminum truck bodies.
It provides real examples of the actual dollar and cents amount that can be saved year over year.
Additionally, it provides some good (and not so good) examples of what you can do with the money you have saved.
Until next time, friends.