How To Increase Your Flatbed Truck Body Storage Capacity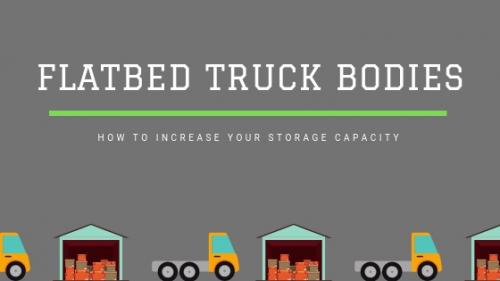 Flatbed truck bodies are built for haulin', but what if they could haul more?
This is a loaded question, but with good reason.
Most flatbed truck bodies are built for durability, longevity, and optimum payload (and they should be!)
However, flatbed bodies certainly designate storage as secondary. After all, the flatbed is built to haul large cargo from point A to point B.
The flatbed truck body fulfills its primary purpose by providing hauling capabilities, but we would venture to guess that most flatbed operators need additional tools on the road to do their work efficiently.
Supplementary storage that does not compromise the primary function of the flatbed truck body is possible.
There is a solution that most flatbed manufacturers won't offer, but they should.
---
Under Deck Storage
When a flatbed truck body needs additional storage (which most do),the most efficient way to provide space is to utilize the area underneath the truck bed.
By upfitting a flatbed truck body with under deck storage, you can haul extra tools and fastening apparatuses.
This additional layer of preparation will, without a doubt, save you some hassle.
You are not limited to standard utility truck boxes when it comes to upfitting a flatbed body.
If there is a need for storage of much larger items, consider a through-body, under-bed truck box system.
This method provides a truck box running the horizontal length of the flatbed truck bed and a whole lot of storage space.
If storage is becoming an issue for a flatbed body, there are solutions to the problem.
Finding a manufacturer that can provide those solutions is half of the battle.
(To inquire more about JOMAC's flatbed storage solutions, click here.)
---
Aluminum Flatbed Truck Bodies
For maximum hauling capability, try to pair under bed storage cabinets with an aluminum flatbed truck body to maximize your hauling capability.
Aluminum flatbeds provide a significant advantage over their steel counterparts in payload capacity.
This increase can be attributed to aluminum being much lighter than steel, and with modern technology in aluminum alloy, the strength of the truck bed is not compromised.
The result is a tough and durable flatbed truck body with extra storage and payload capability, ultimately providing a more comprehensive truck bed solution to you and your business.
---
Unmatched Storage Efficiency
By pairing together aluminum flatbed truck bodies and under bed storage options, you open up new possibilities for what a truck bed can provide for your business.
The ability to carry more tools will contribute to a higher level of service and safety.
While this solution is simple in concept, it is shocking that so few implement it.
If you are not particularly keen on investing in an entirely new flatbed truck body, at least consider the benefits of finding an upfitter to design under bed utility truck boxes to maximize the space available on your truck body.
It will change the way you work for the better.
If you are interested in aluminum flatbed truck bodies, under deck storage boxes, or both, please click here to contact a JOMAC representative for a free quote and consultation.