Electric Trucks: The Future or Just Hype?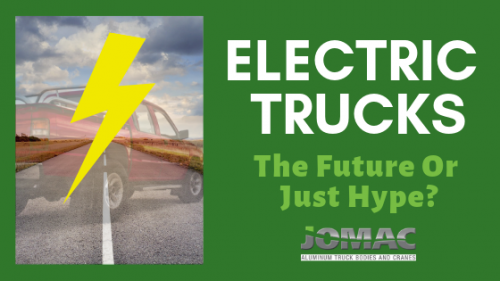 The race is on for electric trucks. Like it or not, the news of their upcoming debut is starting to become more and more prevalent.  At this point, it's becoming a race for manufacturers to get a product to the finish line.
Is this an early sign of an entire industry shift, or just a novelty that will go to the way-side?
No one knows for certain, but here's what we know so far...
GM: Electric Trucks Not Top Priority...Just Yet
One big-name manufacturer getting in on the race is GM, albeit slowly. GM had announced back in the fall of 2017 a commitment to making electric vehicles mainstream with plans to have 20 electric models by 2023. As that deadline creeps closer, more action is being taken towards this goal. The company is restructuring so is a bit delayed, but it is continuing to preach its commitment to electric vehicles as the future.
In this instance, GM is taking a more tentative approach. First up for GM will be an electric Cadillac.
For now, GM is much more hesitant to introduce electric trucks.
The company is scared to hurt its moneymakers – the Chevy Silverado and GMC Sierra. When asked about it in an earnings call in February, all that was said was that GM believes in an electric future so to stay tuned.
Interesting…
Ford: Yup, Electric Trucks Are Coming
Meanwhile, since the fall in 2018, Ford has been announcing plans to move all-in towards hybrid and electric vehicles.
As part of this, Ford has even expressed plans to spend $11 billion in working to bring 16 battery-electric vehicles to market by 2022.
To kick off 2019, the big announcement came that Ford plans to go fully electric with its F-series pickup trucks.
From Ford's perspective, the company plans to shift to having a North American portfolio of 90% trucks, utilities, and commercial by 2020.
With that in mind, it makes sense that the shift towards hybrid and electric options in these types of larger vehicles would be of heightened priority.
Other Manufacturers: The Electric Trucks Are A Priority
Electric trucks seem to be a priority for innovation when looking at the general market.
Tesla, too, has plans to introduce an all-electric pickup truck later this year.
Rivian, a lesser-known brand that's gaining traction, has plans to start selling its own all-electric pickup truck in late 2020.
Bollinger and Atlis are two other lesser-known manufactures who have electric trucks on the way. Bollinger is supposed to begin production on the Bollinger B2 electric truck in 2020, while Atlis Motor Vehicle's truck is still in the more speculative stages.
Hitting Mainstream: A New Outlook
Admittedly, the topic might have been more jokingly looked at when outlier manufacturers like Tesla and Rivian explored electric truck models. But, as bigger, more commercially accessible manufactures like Ford and GM join in, it opens us up to a real possibility of a shift in industry output.
If Ford truly brings a fully electric truck to the market, for example, the models start to be considered by a wider population.
It starts to normalize the concept. 
The hybrid and electric cars and small SUVs were the first step. Now, it's a race to get bigger vehicles, namely trucks and commercial vehicles, to this same point. 
While it remains to be seen if the market will adopt the vehicles, they are without a doubt in production.
What happens next will be interesting.
Electric Trucks: How Will They Affect the Industry?
As bigger electric and hybrid models come to market, it will be interesting to see how quality and performance play out across the competitors. Range and hauling capacities are of huge concern, but many argue that rapid advancements and large investments in creating such improvements will still put the vehicles in a good position when they do debut.
Tesla's truck may be telling, with reports saying it will be able to go 400-500 miles on one charge, have a 240-volt connection outlet, and a max towing capacity of up to 300,000 lbs. 
No, that's not an error. Tesla's Elon Musk made that claim. Then again, he also wants to fly to Mars, so we will use a "seeing is believing" principle on that one.
Bollinger's B2 offers a less jaw-dropping specs. It's estimated to have a 200-mile range and a maximum 7,500lb towing capacity.
Many will start seeing themselves faced with these new questions in the coming years. For example, if you're no longer worried about gas mileage, how does the cost of re-charging versus gas savings impact your bottom line?
Another factor you'd now be facing would be the new safety concerns of having a lithium battery under the hood. Companies are establishing new safety measures to combat this with plans to make them safer than internal combustion engines in the near future.
A Waiting Game
Basically, it's the wait-and-have-more-questions-than-answers game. There's too much up in the air at this point.
Conversely, there's enough talk on it to start getting curious on whether the products will match the hype.